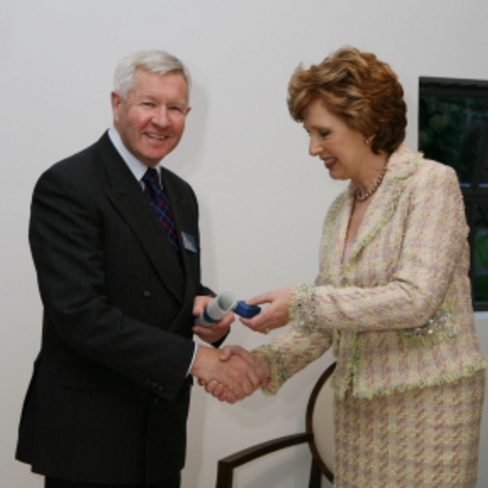 The brilliant D O'Brien has written another wonderful piece for your enjoyment or 'delectation' as D puts it! Pictured here beside Mary McAleese is the man D has dedicated this piece to!
Liam, Do I know you? Sometimes it is worth making the effort to get to know a person and if you don't know Liam already, make the effort to get to know him. It is worth a laugh from the start and for lots more reasons later on; for he is a special person and Marys' man. It is Liam Birkett to whom I refer.
The club has grown enormously over the years and it is not always possible to know everyone and sometimes, even persons who have contributed seminally for very many years. In the distant past, (only a few summers ago to us superannuated members), Liam was in St Mary's College, at school, where he developed his skills in gurning, conkers, escapology from classes he did not fancy, ink bombs; and other useful hobbies. Although, he played rugby, he was most proficient in football and basketball, much to the chagrin of certain clerical gentlemen. In fact, Liam got Irish schoolboys' final trials for both. He had spent four years in the junior school and six in the senior, becoming talented in maths. He always says it was the best 13 years he ever spent!
When he left school, he remained attached to his alma mater, was president of the PPU, and remains involved to this day. After his school days he soon joined St Mary's College RFC, then at College Drive. Being a hefty 10 stone 12 pounds (64.3Kg) naturally, he played prop. He played junior rugby all during the 60s and enjoyed greatly the game, the camaraderie and the après match. He captained the 3rd Bs (J4s). He was always great company with a sharp wit, generous nature and happy countenance. He remained part of the club since, and has constantly contributed. His loyalty and dedication are resolute.
He attends all the AIL games in which Marys play and is a knowledgeable supporter. Liam found himself involved in all the developments that have seen our club become one of the foremost and successful in the entire island; including producing more British and Irish players than any other club. He served on the executive committee and was president during season 1991-92. He has been a very active trustee now for ten years. He and his fellow trustees, Brendan, Brian and JB have a particularly effective and harmonious relationship, as they guard our financial stability. He has been involved in valuable fund raising efforts and has donated generously from his own resources. He has been the club after-dinner speaker on a number of occasions, with his sharp, understated wit, being very popular. During his presidential year, he spoke at seven Leinster club dinners. As late as our last club dinner, he gave the toast to the guests. With all that practice, he now speaks almost fluent English!
Outside of his club involvements, he has had a most successful social, family and business life. Liam formed a design and marketing company, Bernardini, Birkett and Gardner. He is an expert on intellectual properties and trademarks. He created corporate identity and marketing projects for companies such as, Smurfit, K Club and Waterford Foods. Liam was too, managing director of O'Darby cream liqueur. This he launched on 17 world markets, before selling the company to the Bacardi Corporation. Cheers! He was a consultant to Peoples Republic of China advising on design and marketing to the West. (We won't tell Trump) and when on an EU experts panel he was chosen by the European Commission to introduce the Community Trade Mark and Euro to some of the new entrant countries. Amongst his other achievements are: – Past President and fellow of the Irish Design Institute and held officer roles with charities, MS, Deaf and Garda. He continues to do consultancy work and is a mentor with many of the Local Enterprise Offices. He keeps fit and active during the Covid-19, and with a sharp mind, he is never bored although he cannot indulge his epicurean tastes with visits to restaurants.
Liam is extremely affable, so any of you who see him up at the matches or at functions do greet him with Liam, do I know you ? You will then, and be glad you do.
0
0
St. Mary's College RFC Admin
https://stmaryscollegerfc.ie/wp-content/uploads/2023/06/logo.png
St. Mary's College RFC Admin
2020-11-11 16:18:04
2020-11-11 16:18:04
"Liam, Do I know you?"