Tom O. Grace – by Dr. D O'Brien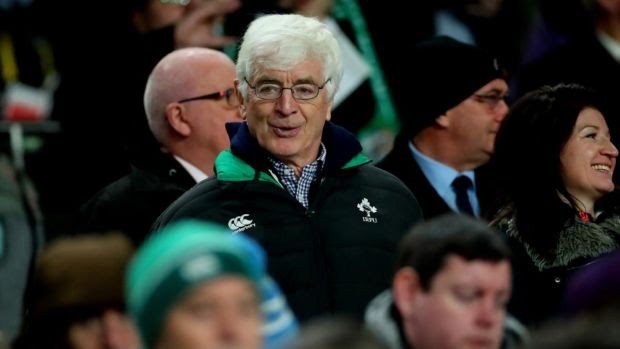 Dr. D O'Brien has kindly issued another evening long-read to keep you occupied and your mind busy as we count down the next 4 weeks until we hopefully get to return to some sort of normality in December. So until then, stay safe, wear a mask, wash your hands and enjoy the below:
Tom O. Grace
Most will have noticed that Tom Grace (or Gracer to his teammates) has just stepped down from his prestigious role as Honorary Treasurer of IRFU, a role that he has filled with great distinction for 13 years. As he was on the field, he was likewise as treasurer, fearless.  He defended his stance, which was invariably wise, whether in loosening or closing the coffers.  
Professionally, he, was a well-known, talented and successful accountant. 
As well as being a much admired and effective Hon Treasurer, he was of course a highly acclaimed rugby player.  He was undeniably one of St Mary's College RFC's greatest ever players, he played throughout the 70s.  He joined from UCD. In his club career he was a brilliant winger, big, strong, fast and skilful, rhapsodic in motion, playing alongside great players, like, Sean Lynch, John Moloney, Tom Feighery, JB Sweeney, Ciaran Fitzgerald (Capt. Lions), Denis Hickie Snr, Terry Young, Rodney O'Donnell, Frank and Terry Kennedy, Tony Ward, Seamus Deering, Declan Fanning, Tony Hickie, Eddie Wigglesworth, Michael Glynn and Paul and Alberto Andreucetti. They were times of peerless St Mary's College RFC teams.
St Marys won the most coveted All Ireland (Bateman) Cup in 1975, in Limerick. This competition was to mark the centenary of the IRFU.  The four provincial champions played over one weekend.  The weekend beforehand, Tom, excelled against Old Wesley to ensure St Marys won the Leinster senior cup, so qualifying to play against Bangor in the semi-final, when he shone and, he once again starred V Garryowen in the final. He scored the only try in a 9-9 draw. In the case of a draw try numbers were decisive and his try was the only one scored. He also converted his try and scored a penalty. A try then was valued 4, and a conversion 2. 
He scored some even more celebrated and important ones for Ireland.  One in Lansdowne Road, against New Zealand in 1973.  He scored a wonderful last minute try to bring the score to 10-10, only to see Barry Mc Gann's fine kick from far out, blown very slightly off course. In 1972 due to the troubles Wales and Scotland refused to come to Ireland to fulfil their Five Nations games, but in 1973, England to their great credit, came to Lansdowne Road. Tom scored the first try. Two other Marys' heroes played that day, Sean Lynch and John Moloney. This was one of the great events in Irish sporting history; equal to 2009 in Croke Park.  Those who attended both, have a treasure in their hearts.
Tom won 25 caps between 1972 and 1978. This would probably equate to 125 in modern terms. He and another Marys' star, John Moloney, were capped on the same day and played together at all levels including for the British and Irish Lions in the famous 1974 winning tour of South Africa. He captained Ireland on eight occasions. Later in life, he served on the Lions committee and then in 2014 he was appointed Chairman of the British and Irish Lions. This was momentous honour for Tom, and one he greatly appreciated.
Tom Grace has always stayed in close contact with Marys, attending functions with his old teammates, usually on the celebrated JB organised table.  He remains in touch with JB, two firm friends.  He always supports St Marys fund raising functions, including our two highly successful Lions legends dinners.
No doubt, Tom has a lot more on his future agenda and we all wish him well and a long contented retirement from rugby administration. We hope too to see him often up at Templeville Road.
0
0
St. Mary's College RFC Admin
https://stmaryscollegerfc.ie/wp-content/uploads/2023/06/logo.png
St. Mary's College RFC Admin
2020-11-11 16:19:11
2023-12-01 13:06:18
Tom O. Grace – by Dr. D O'Brien