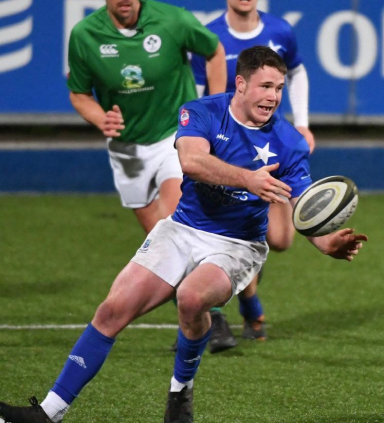 J4 XV v DLSP (A) by Mick Flats – 22.04.23
St Mary's College RFC J4s 6-21 DLSP
O'Connor Cup Final
Saturday 22nd April 2023
On Saturday 22nd of April our Fifth XV were to play DLSP in the final of the O'Connor Cup in Templeville.
Last won in 2012 by the club, as everyone knows, it is a difficult thing to win a cup. Your team has to have a balance of youth and experience, they need to know how to overcome all different types of obstacles, and how to play in different environments against different types of attack & defence.
It is a coach's job to get a team to a final, it is then up to the players to go and win it.
On Saturday the scene was set. All week we had planned to play an expansive game and to run the bigger DLSP pack around the park, and we had won the toss to be given a home advantage.
Everything was going to plan until the weather changed, with a torrential downpour of rain before kick off in Templeville.
Paul Pender was busy with his fork trying to get the pools of water to drain away. The Leinster Branch touch judge then came out to inspect the pitch, initially saying it looked playable to him, but the decision would be left to the referee. He duly arrived and deemed it unplayable, and it was suggested that the game would be moved to DLSP. Phone calls were made and the fixture would now indeed go ahead in Kilternan with a 3pm kick off.
Captain Conor Quinn got the players back into the dressing room, telling them that this is junior rugby, and to expect adversity. We loaded up the cars and headed for Kilternan.
The rain did not stop all day.
The heavier and more mature DLSP pack delivered, relying on their strong ball-carrying game to maul over a try after 10 minutes. They dominated the game and went in at half time leading 14-3.
The toll of the bigger pack was starting to mount. We recorded injuries with Marius suffering a head and knee injury, Cian McBrien with a leg injury, Alex Gunning did his knee, and Niall Kelly injured his shoulder.
We still did not give up and pressed hard on the DLSP line. We were unlucky not to come away with a try, but did manage a penalty to make it 14-6.
DLSP then scored a breakaway try to make it 21-6 with 10 minutes to go. We never gave up after that but could not break the DLSP defence.
Game over.
It must be said that DLSP deserved their victory, playing to their strengths and the more mature team celebrated their success. A lot of them have played together for years and it showed. Their captain graciously came into our changing room after the game to say that they always loved playing us because the games were so close and that we had the makings of a great team if we stayed playing together going forward.
That is the decision our players have to make. Will they get back on the horse and go again next season to get rid of the losing feeling, and go one step further and win the O'Connor Cup for the third time trying.
Big thanks to Captain Conor Quinn and Vice Captain Andrew Gibbons for getting the team motivated for today's final, and all games throughout the season. We are so close.
Thanks to Dave Gardner, Caglar Tuc, Chris O'Connor, Seamie Thompson and Simon Finnegan for all their help throughout the season. Thanks to John and Deirdre Stapleton for their support, and the sandwiches!
To the players, we wish you speedy recovery after yesterday's game. The bruises will heal, the pain will ease, but remember the losing feeling so you don't ever want to feel that again.
Onwards and upwards – we have youth on our side and we can go again.
Captains' dinner to come on May 6th, as well as the DP Smyth blitz the same day.
Everyone in the club is proud of your achievement in getting to a final. You were the only adult team to do so and your day will come. Believe.
Over and out,
Flats.
https://stmaryscollegerfc.ie/wp-content/uploads/2023/04/Image-6-3.png
480
384
St. Mary's College RFC Admin
https://stmaryscollegerfc.ie/wp-content/uploads/2023/06/logo.png
St. Mary's College RFC Admin
2023-04-24 21:12:42
2023-06-20 14:08:38
J4 XV v DLSP (A) by Mick Flats – 22.04.23