J4 XV v Bective (A) by Mick Flats – 31.03.23
J4 XV 20-18 Bective (A) – O'Connor Cup 2nd Round
In the 80s there was a band called Wet, Wet, Wet. Friday night, was just that. Biblical rain fell on Donnybrook. In fact if he game was not in Donnybrook with its 3G pitches it would have been abandoned.
Nevertheless our brave J4s took to the pitch with a bounce in their step as they knew that they had a strong team on paper but needed  to put on a performance that matched their expectations.
A select group of supporters braved the weather . We had the Vice President, Firsts management, Rugby Council and Director of Junior Rugby the legend Mossy Davin, aswell as parents and friends of the team.
The game started when the impressive Bective out half made a super break down the middle of the field. He was truly hit hard and stopped in his tracks by our full back Rian Cassidy who put him on his back to think again . From the following ruck the ball was spread wide to their winger who dotted the ball down in the corner . A dubious forward pass in the move was missed by the ref. 5-0 to Bective game on. Conversion missed.
We then started to get into the Bective half with Dara Lynch's drop outs on point . We secured a penalty on their 10 yard line. Up stands Thady McKeever to take the long range penalty . Kicking into the pouring rain the ball went left and wide. We kept the pressure on and secured another penalty shortly after which Dara slotted over the bar. Now 5-3.
Bective who had a more mature pack. Drove into us offloading down the pitch until we were offside at a ruck. Penalty to them. Now 8-3.
We were coping with the weather and the slippy ball and again pushed towards the Bective line with some smart kicking from Dara.
Jack Cosgrove was immense in the lineout not only winning our ball but by taking a few of the Bective lineouts aswell. His overall game wins him the Frank Keane man of the match award.
From a lineout Bective are penalised for pulling the maul down . Dara slots it sweetly over the posts to go 8-6. We were playing well now with our back row of Mathew Kennedy , Alex Gunning and Christian McAlinden putting in impressive tackles and ball carries. We secured a penalty just inside the Bective half. Rightly we choose to kick at the posts . Thady takes on the long-range kick. It leaves the ground in the right direction soaring directly between the posts only to fall short under the cross bar . A great effort from an improving player. A few minutes later Alex Gunning went over on his ankle after a strong tackle to be ably be replaced by Niall Kelly.
Bective finish the half by scoring a penalty themselves to go in with a 11-6 lead.
We regroup with a talk from coach Dave Gardner . A pep talk from Captain Conor Quinn, who knew we had plenty more to give.
We started the second half with the continuous rain at our backs.
We played all the rugby now. After a lineout win we drove towards the Bective line. Pick and go, pick and go brought us yards from the tryline. Christian picked from the truck and drove to get the ball down on the line . Try. A great team score and we were looking good.
Dara Lynch had his kicking boots on today and made the conversion from the side-line. Score now 11-13 to us. From the restart he found great ground with his left peg. A fabulous 50-22 kick got us into the Bective half. From that Daragh Stapleton won the lineout and we drove towards their line. Getting under the bigger Bective pack.
The quick thinking Captain Conor Quinn, with explosive speed broke from the maul to run untouched under the posts. Dara obliged with the conversion. We now lead 20-11.
This seemed to wake Bective up. The used their big ball carriers to drive up the pitch . They had a big south islander centre which took 2 to take him down but Daniel MCGill did Trojan work against him all night putting him down at every occasion . Fresh legs were brought on with Luke Keenan and Cian O'Brien brought on in the pack and Cian McBrien in the backs.
Bective did get in get for a converted try after pounding our line numerous times.
Score now 20-18 to us with 8 minutes left of time.
Our No 8 Christian is told he has to be replaced by the referee as he is croggy . He had a hole in his tights and the water was getting in me thinks.
This is where we dug in and put our bodies on the line . Bective drove to our line. Their player was tackled five yards from the line . Our impressive loose-head vice captain Andrew Gibbons latched onto the ball to secure an important penalty.
We cleared our line for a minute but were back defending the Bective onslaught. Marius our Spanish hooker tackled his heart out as did every man on the pitch.
Niall Kelly put his head on the line to keep them out and was replaced by Daragh Stapleton.
We held them up over the line. Thady stood up to take the goal line drop out. He gave it an almighty boot down the centre of the pitch . Their full back caught it and ran straight back into us. Another squishy bottom spell for all the soaked supporters who stayed to see who would win this close encounter. Again, every man put his tackle in keeping Bective out. We are now in injury time, and the ref kept play going . Again we get under the Bective player to hold them up . Another goal line drop out. We kick towards the touch line. Bective gather an attack again. They knock on in the tackle , we gather the ball and kick for touch . Game over. We win.
This is the third time we have played Bective , each time there has been a 2 point differential.
We now look foward to a home semi final in 2 weeks. We have more to do. Our wingers didn't get ball tonight, as we know we have ace wingers with Matty Couglan, Gary Lynch and Cian McBrien still to shine. Hopefully the weather will have improved for our next game, and we can be hopefully play to our strengths. We are thankful for all the support given and look forward to seeing you in Templeville for our semi-final against Lansdowne FC. A special thanks to Chris O'Connor for all the unseen work he does , bagman , kicking Tee, waterboy, sub etc  and our backs coach Caglar Tuc who lost his voice shouting encouragement. Also, to our touch judge Simon Finnegan and medic Tom O'Neill.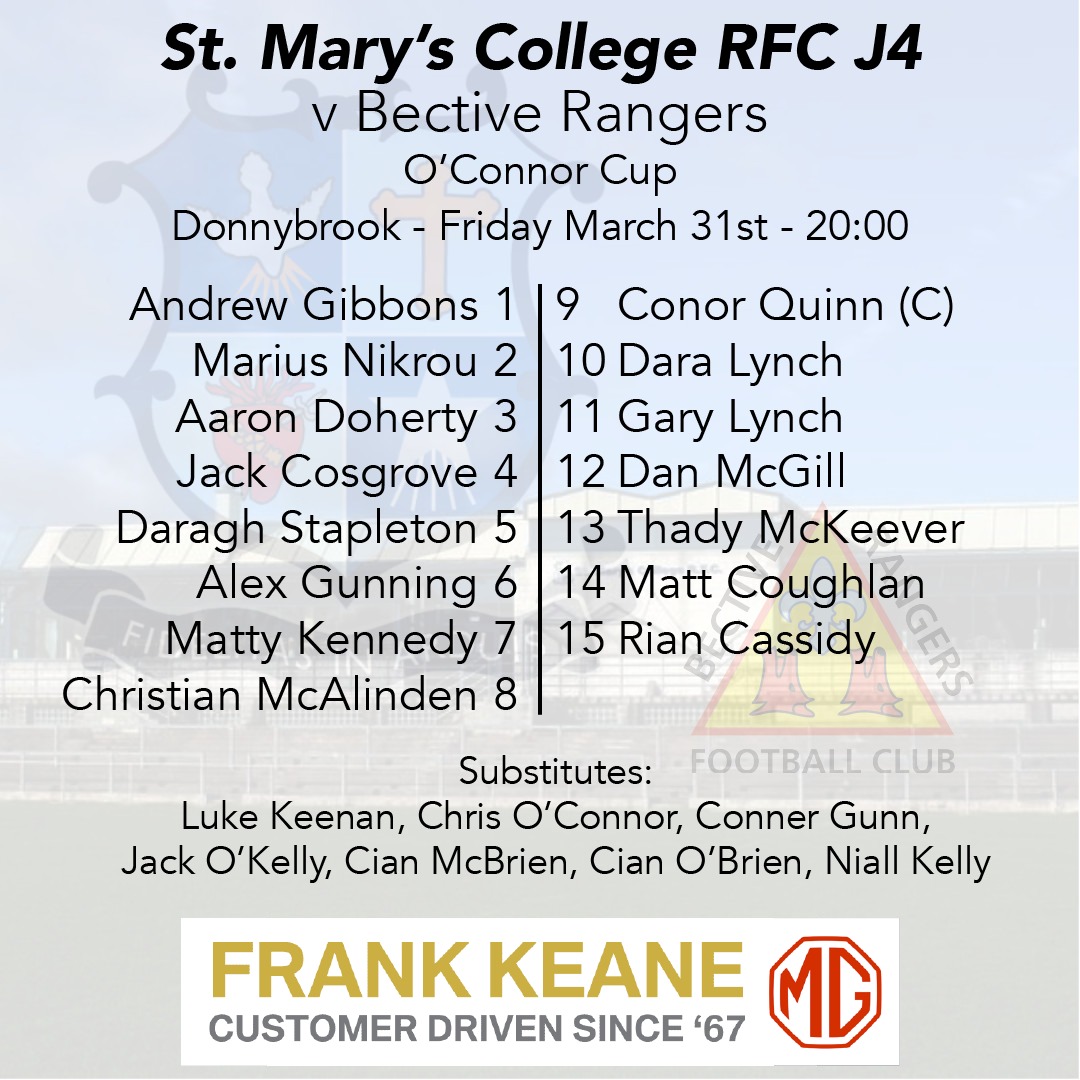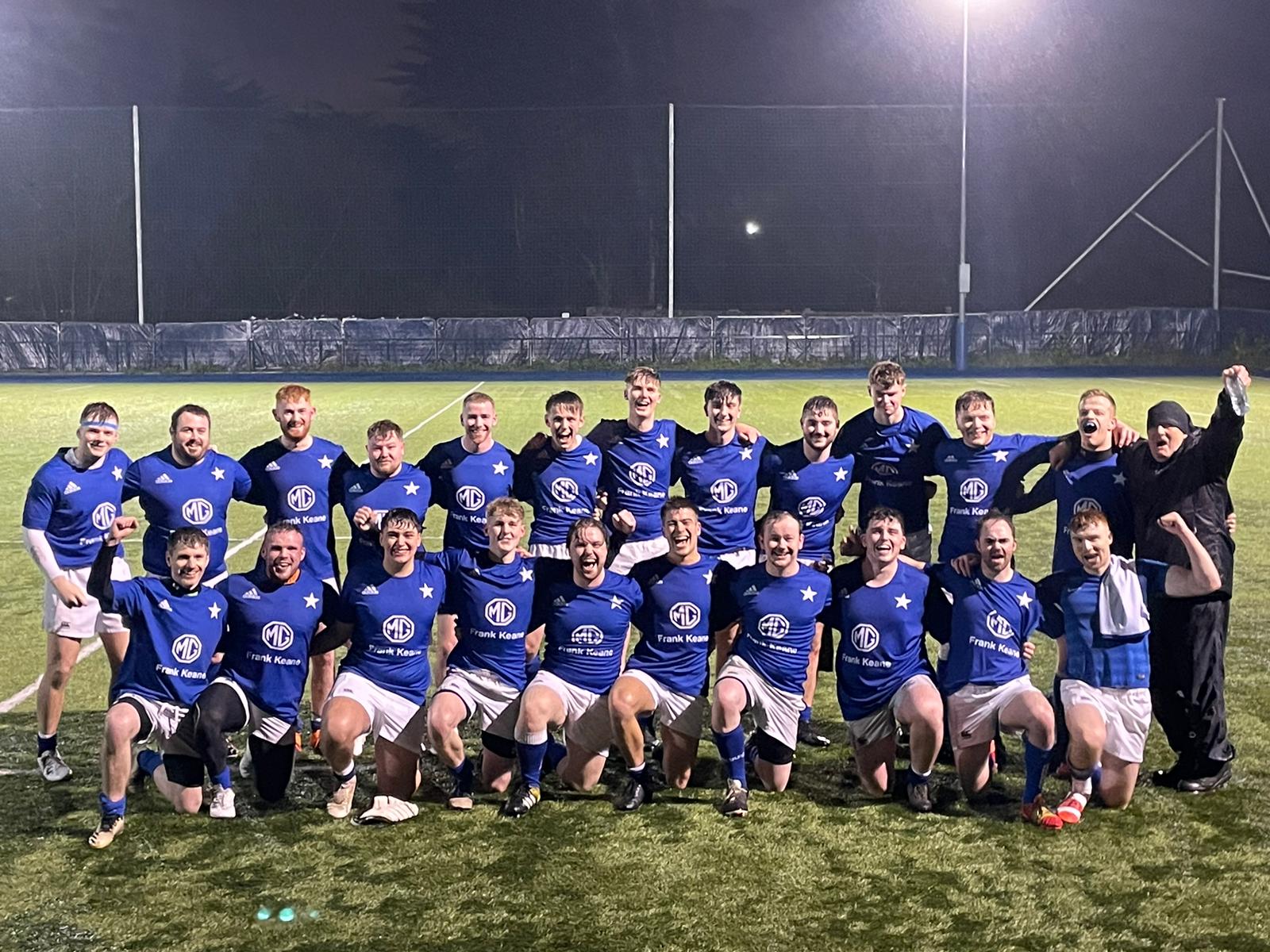 https://stmaryscollegerfc.ie/wp-content/uploads/2023/06/logo.png
0
0
St. Mary's College RFC Admin
https://stmaryscollegerfc.ie/wp-content/uploads/2023/06/logo.png
St. Mary's College RFC Admin
2023-04-03 22:13:27
2023-04-03 22:13:27
J4 XV v Bective (A) by Mick Flats – 31.03.23