St Mary's College RFC – A Short Club Profile
St Mary's College RFC
A Short Club Profile
Since the founding of the club in 1900 the club has moved four times, and changed its name once, from Old St Mary's FC, to St Mary's College RFC a completely open club. When founded, it played at the college in Rathmines, before moving to Beaver Row, Donnybrook in 1911. The First World War saw the college close down for that period, and the club go into abeyance until 1932. It then found a home at Kimmage Grove, close to the top of Greenlea Road. It was rented from a local famer and was a rather primitive set up, the pitch being shared with cattle and sheep. The Marys' lads were a tough lot and not daunted by the cold showers, radical rams or belligerent bulls. The club had more than 20 years there before in 1955, securing grounds and building a new modern clubhouse, across the way at College Drive. This was a wonderfully happy set up, and the start of a real progression to the top; for only three years later under the inspirational captaincy of the inimitable Joe Fanagan (sadly very recently deceased), St Marys won the then premier trophy, the Leinster Senior cup, in 1958. That cup has been won ten times since. Prior to that, 14 junior trophies had been secured and one overseas tour undertaken in 1955, led by a true St Marys great, Matt Gilsenan.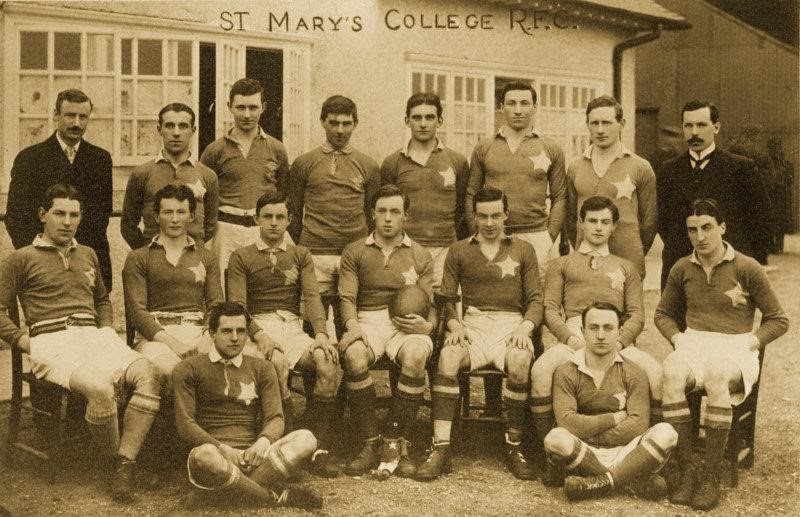 During the time at College Drive, the club buzzed with activity, and was the main social outlet for most members and wives/partners, with organised social nights, dinners, darts nights, dances and sing-songs. It was a mecca for members and friends. Post training meant, a pint or two in the cosy bar, a game or two of darts, and philosophical discussions which frequently solved the world's and country's problems, and selected the Irish team many times over. Also, during our time there we won 23 trophies, including, the All-Ireland Centenary (Bateman) Cup in 1975, led by the great John Moloney, inaugural Leinster Senior league (Captain JB Sweeney) and McCorry cups. We also gained our first international and Lions' cap with Sean Lynch (our Lion King). We now have the most B & I Lions players of any club in these islands, 12. They are (in chronological order):- Sean Lynch 1971, Tom Grace, John Moloney 1974, Rodney O'Donnell, Tony Ward 1980, Ciaran Fitzgerald (Capt of Lions Tour) 1983, Paul Dean 1989, Vincent Cunningham 1993, Malcolm O'Kelly 2001, 2005, Denis Hickie 2005, Jonathan Sexton 2013, 2017, Jack McGrath 2017. Ciaran Fitzgerald, Tom Grace, John Moloney, Seamus Deering (sadly deceased) and Jonathan Sexton have all captained Ireland, All of these Lions have actually played for the club.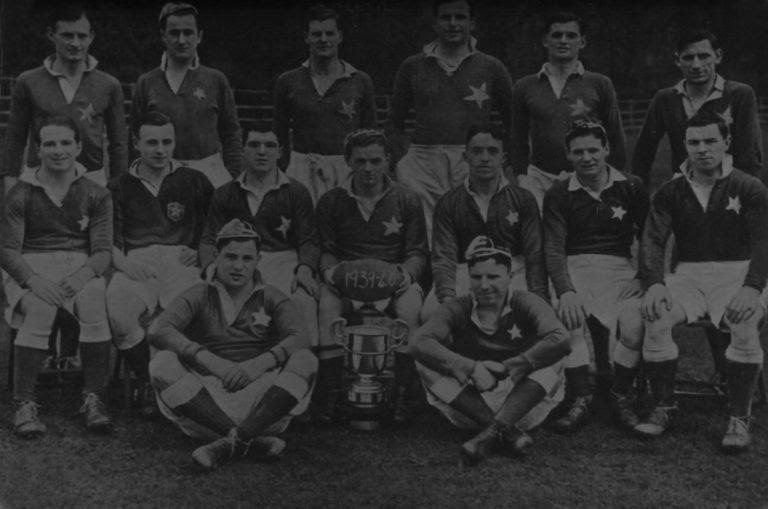 The continued success and growth of the club prompted the then committee to look to extend the playing facilities, and so after heavy fund raising and judicious negotiations, the current grounds at Templeville Road were purchased, and in 1976 the new clubhouse (designed by former player Tony Hickie), and grounds were opened with a wonderful game, when an Irish selection led by Willie John Mc Bride, played St Marys. Since then, the clubhouse and grounds have been further upgraded and updated. TV grade Floodlights, high grade pitches, a top quality gym, our own water supply, terracing and kitchens were added, all leading to one of the best equipped and furbished rugby clubs in the country.
Since moving to Templeville Road, our rugby fortunes have also continued to grow. The core of our existence has been the membership, not just the senior or representative players but all levels and standards of players, and the non-playing members, women and men. We have added mini rugby and youth sections, which we see as the future of our club; indeed the creation of a women's section in 2002 has added even more to our raison d'être.
That period from 1976 to 2000 was a superb sprint through success on the field, social consolidation and structural development, leading to our first AIL Division 1, trophy in 2000, 100 years on from our foundation. We added a further15 full international caps; and one B International. It was a truly bountiful period for trophies, as we won 93 trophies, with the attendant joy and celebrations. As with earlier periods, inter rugby club friendships was a feature, and particularly embraced by St Marys. We even had close, enduring friendships with a certain neighbouring club, once we were not on the pitch. That inter rugby clubs friendship and cooperation is a fundamental tenet of rugby's prosperity and existence. It continues today.
The 70s was a decade crammed with superstars, trophies and moves. The 80s saw the production and emergence of more stars, it also produced harvests of cups and development of the game itself. Indeed it has continued to evolve ever since. The 90s decade was a whirlwind of change, change in the game, major changes in our clubhouse, with new bars and halls fit for the new millennium. However, the biggest change was mid-decade, when the game was thrown into confusion by a sudden decision made to allow the game turn professional. You could say it hit St Mary's College RFC hardest, as an entire team of talented players that won the AIL Division 1 in 2000, were taken into professional Leinster, leaving us in disarray, and having to rebuild. We received no compensation nor assistance to rebuild and hence, it led to a serious problem three seasons later, when in 2003-04 we were relegated.
When the development of that historical team was in its early stages, we had a really impressive run in the AIL, season 1992-93, culminating in a play-off V Young Munster from Limerick. At that time the AIL was the premier rugby competition on the Island, commanding great numbers of supporters. And so this match lit the torch for a bonfire of anticipation, hope and rivalry all around Rugby Ireland. Much fear, hope, sweat and whirring neurons were in evidence; an exodus of Limerick to Dublin was planned. The game was scheduled for Templeville Road, but Health and Safety thought no. So, in what was possibly a kindness too far and fateful; home advantage was ceded. Lansdowne Road was the venue and it was a fitting venue to host such a febrile and fiercely contested match up. With thousands in attendance, it was a wondrous scene, brim-full of pyretic realisation. The game was in contention to the end, but in the heat and passion of the joust, St Marys had a man sent off, which may have been decisive.
However, we continued to build and compete, and efforts were rewarded in 2000, when then coach, Brent Pope and Captain Trevor Brennan, led their men to victory over Lansdowne FC, in Lansdowne Road. The founding fathers' dreams had been fulfilled. And so ended an era and a millennium.
The 2000s were years and seasons of ups and downs and building back teams; and building on to buildings. A high quality gym was added along with many refurbishments and refinements to clubhouse and pitches, leading to what is now really fine, and widely admired ensemble. Once again these developments were under the experienced and dedicated eye of the invaluable Frank Kennedy.
Our demotion, with re-establishment in the top tier the following year under coach, miracle man, Steven Hennessy, saw the development of more fine teams and representative players. In 2002-03 we added a women's section which has been developing nicely, leading to the development of several representative players, including six Irish Internationals and an Irish Captain, Paula Fitzsimons. They have won an AIL title and emphatically have added to, L' Esprit de Corps.
That period saw the expansion of the mini rugby setup, with teams from U6s upwards and with many parents/club members coaching and managing. We are bringing more young people into rugby. Although we still depend to a good degree on our treasured St Mary's College, Templeogue and the High School, feeds, we have been, and continue to build in all areas. Community involvement is paramount, St Mary's College RFC is a community based club. This has seen a really strong Youth's Rugby Section develop, with the club devoting significant human and physical resources to it. The section now has teams leading all the way from the mini rugby right up to the U20. We strongly encourage and support non-rugby playing schools' students and staff, from a very wide hinterland, to join our club and influence our future and success. We have already seen one Youth's player, Eric O'Sullivan, go on to play representative rugby, and now the 2020-21 season play for Ireland; our club is very proud of him. Our message to the community is come and make St Marys your club.
Between 2000 and 2012 we amassed 37 trophies.
Since then
In 2012 a team built and nurtured from mainly home developed players, over the previous decade by two outstanding Marys men, Steven Hennessy and Peter Smyth, captained by Hugh Hogan, triumphed once more in AIL Division 1 A. (See Ballad of the AIL on website HERE). Off-field, we had our first ever, IRFU president, John Hussey in 2011-12. He was Chairman of the IRFU management committee for eight years and previously was President of the Leinster Branch, having been our IRFU/LB representative for over ten years. In 2013 Niall (Rynner) Rynne, took over from D O'Brien, as the club Leinster/IRFU representative and since has worked extremely hard for club, Leinster, (with Leinster presidency 2017-18) and IRFU. This season, his exceptional work and ability have been rewarded, as has been appointed Chairman designate of the top IRFU committee, the management board, and a most prestigious position.
Our Press Office, with the ever helpful and popular Maurice (Mossy) Davin and Harry Ebbs, has been tireless in promulgating our existence and attractions. A wide ranging and evolving website, http://www.stmaryscollegerfc.com/ has been developed, with an interesting and relevant archive and links, including ClubZap, Facebook and Twitter. Mossy and Harry keep the membership up to date with news, both on the website and via a regular electronic newsletter. They have reports of all the AIL (and some other) games going back over the past 15 years, along with news and many other interesting items, on the site Their interaction with club members and the public are vital to our relevance. Both are also heavily involved in supporting and running junior rugby.
Having taken a tumble from 1A again in 2014-15, we re-emerged from exile the following season, with Steve Hennessy as coach and dedicated, manager Paudge McGill and captain Rob Sweeney, winning AIL Division 1B in 2016. Although we have slipped again, we have remained in Division 1B and are making our way back. Obviously, Covid-19, the pestilential plague, has held up progress, although, the entire club, and particularly our popular Club Captain, Richard Halpin (SEE HERE), is waiting on the blocks, ready to sweep into action. The current president, Vincent Cunningham (former B&I Lions player), is driving the club's work towards long-term sustainability. We have a new dedicated, Honorary Secretary, Colin Smyth (another of old St Marys' stock). We have for some time now in place, a chairperson, and also a club administrator (marvellous Marie Hammond), all working diligently with the president and committee, to balance the heavy work load on the committee. There are for both club per se, and rugby, development, plans in place. The Rugby Council (RC), under the highly organised and talented Chairman/ Director of Rugby, Alan Shirley, has been working hard and is behind the successes and developments in the rugby sphere. All junior rugby has suffered since the economic crash, however RC has been active in re-vitalising it and the results verify that.
The work done has paid dividends for individual players, as we have seen two more players become Internationals, Jordan Larmour and Caelan Doris and Jonathan Sexton and Jack McGrath become B&I Lions.
Sadly 2020 and 2021 so far, have taken some of our great members and former players we remember them and what they did for our club with extreme gratitude.
In spite of those great losses their work along with many more has ensured that we can look forward with confidence to our future.
We, at other levels too, fared well since we won AIL in 2012, amassing another 28 trophies.
In the club's history we have won 186 rugby trophies and 12 Lorcan Sherlock cups.
We have 12 British and Irish Lions, 33 full Irish men's internationals, one B international, six women's internationals. We have 13 Barbarians and one woman Barbarian.
And we have a lot more to come.
D O'Brien.
Spring 2021.
0
0
St. Mary's College RFC Admin
https://stmaryscollegerfc.ie/wp-content/uploads/2023/06/logo.png
St. Mary's College RFC Admin
2021-02-04 14:26:29
2021-02-04 14:26:29
St Mary's College RFC – A Short Club Profile