J4 XV v Old Belvedere (A) 19.04.2018
J4 XV 17 – 15 Old Belvedere
Metro League Division 6 Final
Last Thursday the J4's faced Old Belvedere in Anglesea Road in the final of Metro League Division 6. A repeat of last season's final that was won by St Mary's.
Despite some good displays by St Mary's in defense Old Belvedere got in for the first try if the game midway through the half. The conversion was missed. Belvo won two penalties over the next 10 minutes which they elected to kick. Both kicks were missed. However they went over for their 2nd try near the end of the half. The conversion was missed. 10-0 was the score line that remained at half time.
St Mary's started better in the half and went over for an early try from forward Mel Farrell. James Bourke was successful with the kick. Moments later Belvo went over for their 3rd try. Kick was yet again missed. This left the score 15-7.
The rest of the half proved to be very entertaining with great defensive displays by both teams. St Mary's captain Padraig Nestor led from the front and began the fight back. A break from 50 yards say him make the line. The long range conversion was missed. Score was now 15-12. It was very much game on!
The last 10 minutes were dominated by the St Mary's pack with a strong display. Long spells being spent in the Belvo 22. However despite this Belvo turned the ball over on a couple of occasions and made their way into the St Mary's 22. Some big tackles kept the, out. With 5 minutes to go, continued St Mary's pressure won penalty which they kicked to the corner. After a clean catch at the lineout a further penalty was won. Again this was kicked to the corner. Another clean lineout with attack after from the pack down the flank. With the clock going into injury time St Mary's didn't panic and force it. The play was just within 5 meters of the Belvo line. Then they got their big moment!! Young prop Callan Carey went over for the try with a huge roar from the St Mary's bench and supports. Relief!! Conversion was missed but they now had the lead 17-15.
Still try for the restart. Thankfully from a St Mary's point of view the ball didn't got the 10 and had a scrum on halfway. A penalty was won from the scrum. To great relief the ball was kicked out and the referee blew his whistle. Result 17-15.
It was another great moment for this special J4/J5 squad to share together with the J5 having recently won Division 11.
As a squad they have come a long way over the last two seasons. Back to back league finals for both teams. The J4 winning two in a row. The J5's going one better than they managed last season.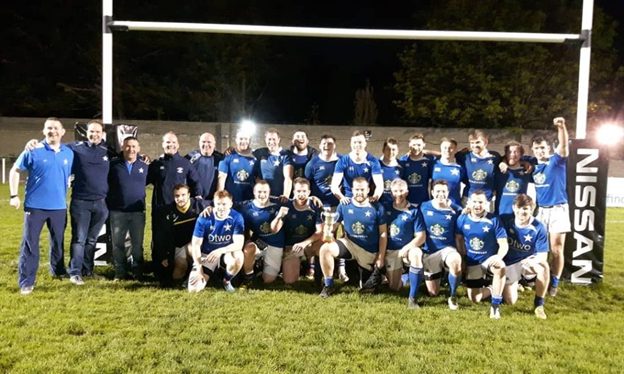 0
0
St. Mary's College RFC Admin
https://stmaryscollegerfc.ie/wp-content/uploads/2023/06/logo.png
St. Mary's College RFC Admin
2020-12-04 12:14:12
2020-12-04 12:14:12
J4 XV v Old Belvedere (A) 19.04.2018