Paula Fitzpatrick – Article by Niall Brew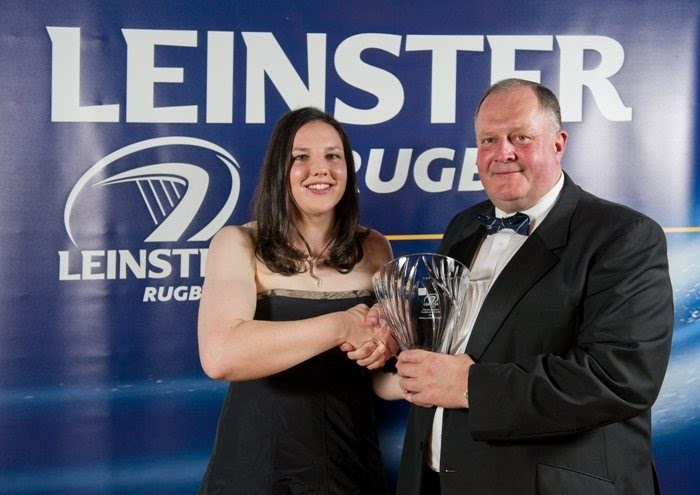 Leinster Women's Player Of the Year: A Dream Come True
Paula Fitzpatrick is the kind of person any club would be lucky to have. She has a love of the game that is unrivalled and has dedicated many hours every week to perfecting her game. A talented player, Paula is a natural ten and has held this position for her club St. Mary's College over the last number of years. Paula has also captained the team for a number of seasons including to victory in the Paul Flood Cup two years ago.
For Paula, the goal was to take her game to the next level. She had been in the Leinster squad for a few years but had not nailed down her place on the starting XV. When Leinster coach Dan Van Zyl saw Paula throwing a few lineout balls after training he knew he had found the person to replace retiring Yvonne Nolan at hooker.
Paula immediately applied herself to the new role. She learnt how to throw into the lineout and how to scrummage with help from the Irish coaching team and Yvonne Nolan. Paula describes this as "a technically difficult role that has required a steep learning curve". Paula has also moved to 2 for her club in order to help her gain experience in the front row.
Paula's role in helping Leinster win the interprovincials propelled her into the Irish setup. Initially Paula was aiming to make the training squad, but her determination and good form ensured that she earned a place in the squad. She sat on the bench until she got the nod to start against Scotland. Paula described it as "a dream come true". Even the infamous trip to France had a galvanising effect on the squad that brought them closer together.
Paula's ambition for next season is to rehabilitate her injury and to strengthen herself for next season. She wants to "push on and has lots of areas to improve on". Paula will also spend the off season working on her throwing and hopes to galvanise a place in the Leinster and Ireland squads next year.
Paula's hard work was rewarded with being honoured by Leinster when they named her the Leinster women's player of the year. On the night of the awards Paula's club, St. Mary's College, had won the AIL and there was a huge party going on back at the club. When Paula arrived back with the award, she received a huge reception. All of the first team spent time discussing her award and congratulating her.
Such is Paula's dedication, that even though she is injured, she was still out training with the Leinster sevens team this Tuesday, only 3days after winning the Leinster Women's Player of the Year. Paula's humility was to the fore when she commented "I have no idea why I was singled out. There are plenty of other players who deserved this award and it was a team effort to win the interpros". That kind of sums up Paula, humble in the face of her own talent. The kind of person any club would be lucky to have.
0
0
St. Mary's College RFC Admin
https://stmaryscollegerfc.ie/wp-content/uploads/2023/06/logo.png
St. Mary's College RFC Admin
2020-11-11 16:06:56
2023-12-01 13:07:43
Paula Fitzpatrick